M Series Truth Capacitors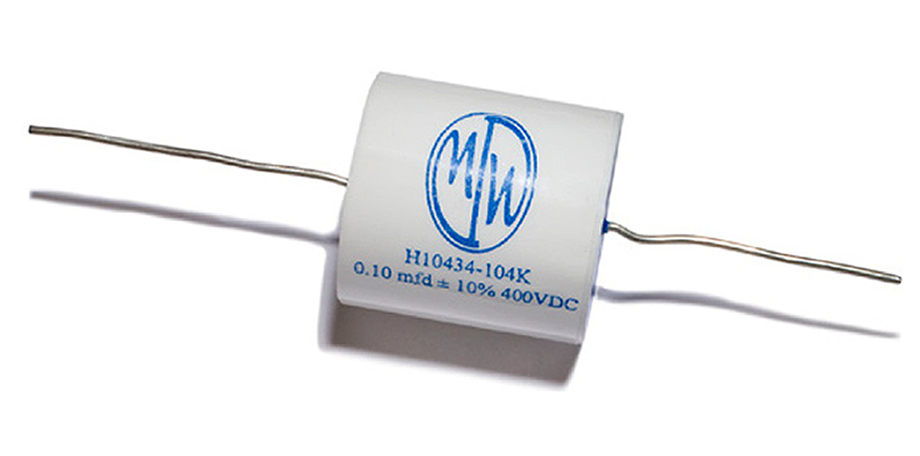 In search of the best sounding capacitors for our designs, and dissatisfied with available audiophile capacitors, we set out to design the ultimate capacitors. They are ideally suited to power supply decoupling and analog coupling applications. One listen and we think you will agree that we have met our goals! Now that production has ramped up, we have made our proprietary MWI capacitors available to other designers and modifiers for your projects.
The M Series Capacitors are made with a proprietary oil-impregnated metalized polypropylene dielectric with pure copper tinned leads. We recommend these in larger values for power supply decoupling and bypass of electrolytic capacitors. They also work extremely well as output coupling capacitors in pre or power amplifier applications. The M Series Truth capacitors offer body, weight and exceptional clarity without the softness or overy warm presentation of other oil or paper in oil capacitors on the market.
MWI capacitors are sold factory direct as well as through some international distributors.
U.S. factory-direct pricing:
M SERIES
.1uf-400V (.75"L x .625" Dia.) : $19.99
1uf-400V (1.125"L x .875"Dia.) : $34.99
4.7uf-400V (1.375"L x 1.5"Dia.) : $44.99
Above pricing for all caps is in quantities < 10 pieces.
Please call for pricing in quantities > 10 of any value.
Manufacturers please call for OEM quantity pricing.
[All values are +/-10% – matching available for add'l charge]
No specifications for this product