LS 99 Balanced Tube PreAmplifier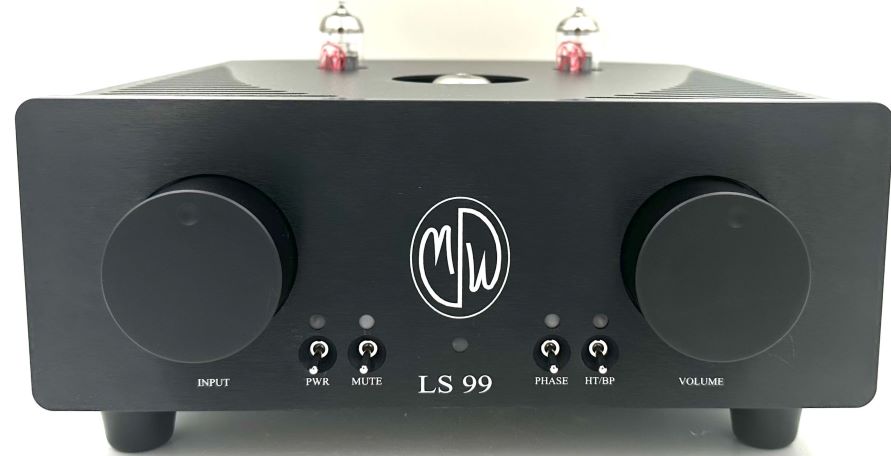 LS 99 Balanced Tube PreAmplifier
Dan's Design Basis
Based on the LS 300, our Reference Flagship balanced tube preamp, the LS 99 uses the same transformer coupled input and output topology, tube rectified, and SS regulated power supplies with (2) 6922 driver tubes. The power supply is outboard, but not dual mono, like the LS 300. In keeping with the '9' series of products, we took the best elements of our Reference design and built them into a more compact, simple, and elegant enclosure. This allows us to keep 95% of the sonics of the Reference product and reduce the price by nearly $5,000. I am quite pleased with the result.
FEATURES
(2) XLR Fully Balanced Inputs.
(3) RCA Inputs.
(1) RCA HT/BP (Home Theater Bypass Input).
(2) XLR Fully Balanced Outputs.
(2) RCA Outputs.
Dual Remote 12V Trigger Outputs.
Remote Control: Volume, mute and trigger outputs.
Tube Output: 6922/6DJ8/7308/E88CC
Tube Rectified: 5AR4/GZ34 and Equivalents.
Pure Class A.
External Power Supply.
SPECIFICATIONS
Gain: 11dB.
Frequency Response: 20Hz – 150Khz flat.
Input Impedance: 30K.
Output Impedance: 100 ohm.
Noise Floor: -110dB (unweighted).
Dimensions: Preamp = 10.5"W x 4.5"H x 12"D. (Depth includes 1.25" knobs and .75" RCA's. Height does not include exposed tubes. Overall height varies by tube mfr).
Dimensions: External Supply = 7"W x 9"D x 3"H
Weight: Preamp = 17 lbs. External Supply = 11 lbs.
Combined Shipping Weight: 33 lbs.
Umbilical: (1) 4 ft. umbilical with 8-pin Switchcraft connectors.
Proudly hand crafted in the U.S.A.