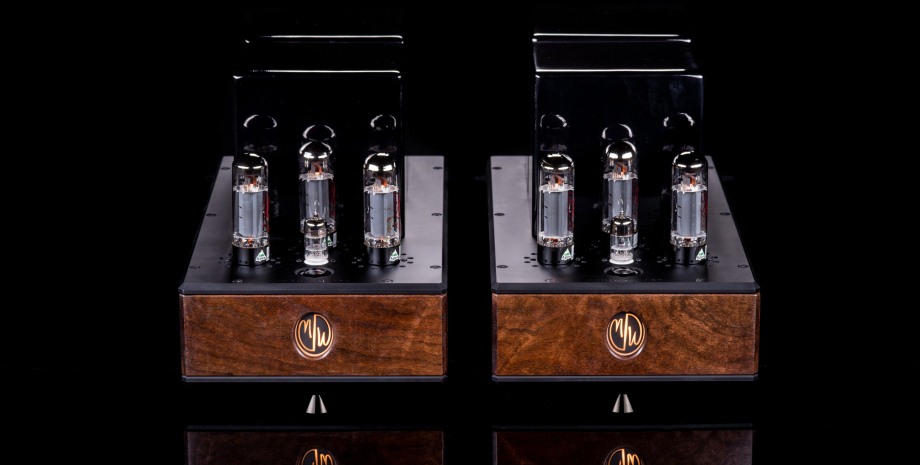 Ambrose A30 Tube Mono Block Amplifiers represent Power, Refinement, Musicality and the beauty of True Artisan Craftsmanship.
The A30's present 32W of pure, Single Ended, Class A power, with zero feedback. The elegant signal path and exceptional hand wound transformers provide the beauty of Single Ended Class A tube sound AND power to drive a broad range of speakers.
The goal in designing the A30 amplifiers was to pursue the beauty of Single Ended tube sound, enough power to drive a range of conventional speakers, and achieve full and natural frequency response from 20Hz – 20Khz.
I found that I loved the sound of Single Ended tube designs, but often the most beautiful sounding amps required ultra-efficient speakers. Also, many of the SET amp designs that I heard lacked bass and high frequency extension.
Push Pull amplifier designs provide much greater power, but in the many P-P amps that I listened to, there was a magic that was still lacking. Most every P-P amp relies on global feedback and this is where most of the magic is lost.
The key was found in the use of the EL34 power pentode tube (in pentode mode), operating in SE parallel AND with a specific transformer design.
I only went down this path after I realized that we could achieve the beauty of SE tube midrange, as well as good bass and high frequency response. The last step was to work out how to achieve over 30W of power. The result speaks for itself!
Note: Each unit is built to order with choice of wood finish. No two units are exactly alike, due to the hand-picked instrument grade hardwood enclosure. Unit shown finished in Highly Figured Walnut.
If you are looking for Heirloom Quality, Artisan Craftsmanship and the beautiful sound of tube power, with good bass control, high freqeency extension and resolution, look no further!
Proudly Hand Crafted in the U.S.A.
Power: 32W Class A into 6 ohms @ .1% THD
Input Impedance: 100K
Gain: 22dB
Frequency Response: 20Hz-20Khz
Driver Tube: (1)12AT7 per amp.
Power Tubes: (3)EL34 per amp (SE Parallel).
Dimension: 9"W x 17"D x 10"H
Weight: 47lb per amp.