KWA 150 'Signature Edition'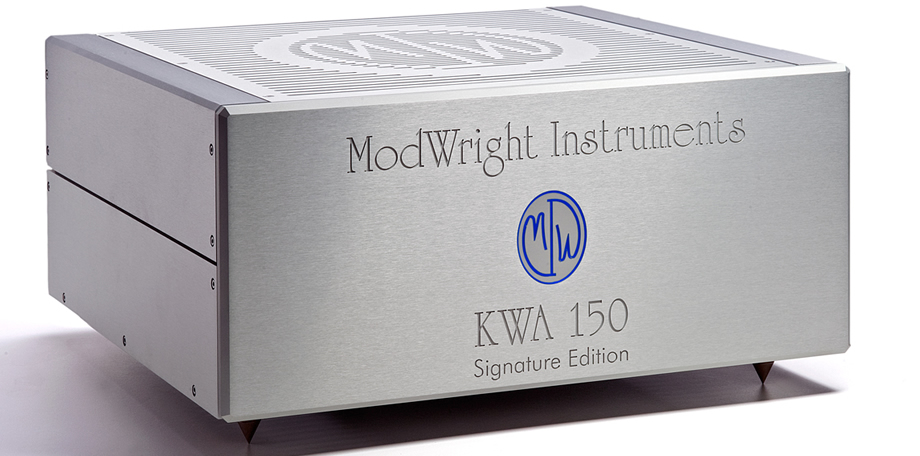 The KWA 150 provides the strengths of both tube and solid state products: 3-D sound-staging, holographic imaging, and a beautiful midrange of tubes, combined with sparkling highs, low distortion, bass resolution, and control of solid state.
The heart of the KWA 150 Amplifier is a single voltage gain stage called the Solid State Music Stage. The circuit was developed by Alan Kimmel, creator of the exceptional vacuum tube Mu stage.
Features include: high-low bias switch, stereo/bridge-mono switch and true balanced floating inputs, accepting balanced and unbalanced inputs. The design incorporates a regulated power supply for the input stage, Cardas best connectors and oversized heat sinks. The first watts operate in pure Class A.
The KWA 150 uses no global feedback, is direct-coupled, fully differential, dual-mono, bridgeable, and designed and built in the USA.
Black option also available.
We have taken the KWA 150 and applied nearly two years of additional R&D and further thought into how to FURTHER improve upon the award-winning KWA 150.
Our customers say it best!
…the amp has settled in very nicely and I've REALLY enjoyed listening to my system over the past month – it's doing all the things you said it would do! The dynamics and lower noise floor (I'm assuming these go hand-in-hand) are most noticeable – maybe an increase in separation, as well – whatever it's doing, it's doing it WELL! I was listening to a RR of Clark Terry w/ 'big band' today and the dynamics are incredible.
…I also forgot to mention with the SE I notice a more solid center image – sometimes it's "funny good". Most visitors think the center speaker is being used given the vocals are so solidly placed there on many tracks.
– V. Waldrop (Jul. 3, 2011)
Upgrades to all existing KWA 150's available!
Please contact your dealer or call for pricing!
Summary of key elements of upgrade
Upgraded model of Lundahl input transformer for improved speed and dynamics.
Circuit design revisions to input circuits that lower distortion and improve dyanmics and resolution.
Cryo-treated, solid core ultra-pure input wiring and 12GA stranded audio-grade output signal wire to binding posts.
Revised capacitor bank (current storage design) that increases total storage (capacitance) and also lowers power supply impedance, which translates to faster current delivery to the output stage.
This all translates to the following in terms of sonics:
A more open and resolving overall presentation.
Tighter and faster bass and transients.
Improved speed and dynamics, whilst still retaining tube-like midrange qualities.
Improved soundstage and low-level cues due to an even LOWER noise floor.
Power Ratings:
150W  8 ohms (Stereo)
450W  8 ohms (Bridge Mono)
250W  4 ohms (Stereo)
650W  4 ohms (Bridge Mono)
Bandwidth: 10Hz – 100Khz (+0, -1dB)
Noise Floor: -100dB.
Channel Separation: -75dB below 20Khz.
Gain: 26dB.
Input Impedance: Min. 15K at 50Hz; 23K at 1Khz.
Dimensions: 18"W x 17.5"D x 8.5"H
Shipped Weight: 76 lbs (84 lbs. shipped)