PH 9.0 / PH 9.0X /PH 9.0XT Tube Phono Stage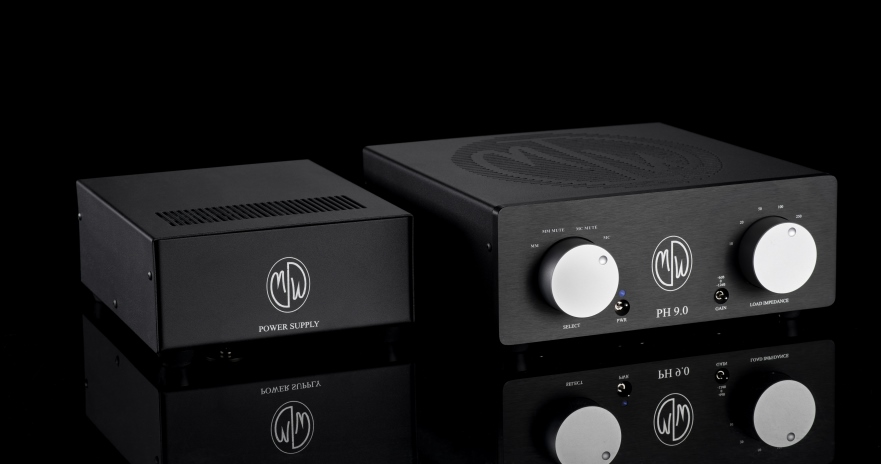 PH 9.0 TUBE PHONO STAGE
We are excited to present the new PH 9.0 Tube Phono stage with on-the-fly loading and attenuation controls. Following in the footsteps and true Design DNA of the Reference PH 150, the PH 9.0 offers most of the same performance and flexibility of the PH 150 at a much lower price and smaller form factor.
The rise of interest in vinyl has led to demand for flexible, high performance phono stages to make the most of ALL of our vinyl. The PH 9.0 is quiet, musical, physically compact and flexible enough to suit the simplest to the most complex analog rigs! We chose Lundahl MC step-up transformers, separate MM and MC inputs, compact external power supply on a long umbilical and vacuum tube design to maximize flexibility. The use of external supply, careful grounding, layout and solid engineering result in an extremely quiet tube phono stage! The power supply is small and has no controls and may be tucked out of the way anywhere. The phono stage itself is 10"Wx10"Wx4"H. Its compact form factor allows flexible placement. Like the PH 150, front panel controls for MM, Mute, MC input select, On-The-Fly MC loading and gain adjustment for MM and MC carts allows for easy adjustment to suit different cartridges and systems. Mono/Stereo toggles is locate on the rear panel.
Easy load adjustment from the front panel, easy gain adjustment, two phono inputs and mono Switch!
Fully balanced, transformer coupled XLR outputs are available as an add cost option. The base unit has single ended RCA outputs only.
14 DAY MONEY BACK GUARANTEE ON ALL PH 9.0 SALES! WE ARE THAT CONFIDENT THAT YOU WILL LOVE THIS PHONO STAGE!
(14 day period begins after unit is received. Refund is for purchase price of unit, less shipping & any transaction or credit card fees.)
PH 9.0 "X" UPGRADE – LUNDAHL 1660S TRANSFORMERS!
What the PH 9.0X upgrade includes:
The upgrade to the PH 9.0X involves the addition of a pair of Lundahl gapped output transformers, commonly used in SET tube amps. The addition of these transformers also means the elimination of a pair of chokes and coupling caps, all in the signal path.
Why this upgrade?:
The circuit change made to the PH 9.0X, make it much closer to the PH 150 in terms of overall circuit design. Various other circuit differences in the PH 9.0 vs. the PH 150 were implemented, to see where the PH 9.0 could be improved. Most either made no difference, or for whatever reason, did not sound as good in the PH 9.0. This circuit change however DOES make a difference. The use of the Lundahl output transformers was one of the cost cutting design changes made to the PH 150 to achieve the PH 9.0. I found that the improvements were simply big enough that it warranted offering the upgrade, as an add cost option for the PH 9.0.
Sonic Benefits:
The sonic benefits of this circuit change are obvious and significant! There is better bottom end, more weight and authority to the sound as well as improved resolution, detail and soundstage.
For a more TECHNICAL explanation of the "X" upgrade, please see the downloadable file on this page, in the right column.
Please note, the unit may be purchased as a PH 9.0X or upgraded at any time to the 'X' level!
PH 9.0 "T" UPGRADE – TUBE RECTIFIED POWER SUPPLY!
What the "T" upgrade includes:
The upgrade to the PH9.0 & PH 9.0X involves the addition of the tube rectified power supply. I have experimented with this for some time and after comparison to the stock solid state rectifier, found the benefits to be obvious and worthwhile. Again, back to our Reference PH 150 design, I also included a further high-voltage pre-regulator to the external supply, in addition to the tube rectifier. The 'T' upgrade then includes tube rectification and the high voltage pre-regulation stage.
Sonic Benefits:
The results include a bigger and broader soundstage, more body and a more holographic presentation of the music. Tube rectification offers a unique quality that is simply more musical. There is a reason that most all of our preamps are tube rectified.
For a more TECHNICAL explanation of the "T" upgrade, please see the downloadable file on this page, in the right column.
Please note, the unit may be purchased as a PH 9.0T, PH 9.0XT or upgraded at any time to the 'T' level!
REVIEWS
Just in from HiFi Choice!!!
HiFi Choice PH 9.0 Review!
Given 5 Stars by HiFi Choice and also the Group Test Winner award when compared to other phono stages in the same price range!
Grover Neville of Part Time Audiophile does a great job of explaining the benefits of the 'X' upgrade, in his follow up review:
Follow up review of our 'X' upgrade for the PH 9.0!
NEW REVIEW FROM STEREONET!!!
ModWright Instruments PH9.0 Phono Stage Review
NEW REVIEW FROM POSITIVEFEEDBACK.COM!!!
ModWright Instruments PH 9.0 Phono Stage: A New Paradigm in Affordable Excellence
NEW REVIEW FROM AUDIOPHILIA.COM!!!
PH 9.0 phono stage review with Pure Fidelity TT and Kiseki Purple Heart Cart!
NEW REVIEW FROM NEW RECORD DAY!!!
System Review with Wilson Sabrina's!
NEW REVIEW BY STEVE GUTTENBERG FOR CNET!…
NEW YOUTUBE REVIEW BY STEVE GUTTENBERG, The Audiphiliac!…
EARLY FEEDBACK FROM FIRST CUSTOMERS!
'Your PH 9.0 is a work of art! I cannot imagine a phono stage sounding any better, and I have heard lots of phone stages. I am completely amazed at how synergistic and well-integrated and balanced your gear is! Thank you for making listening to music such a joy. It sounds amazing! I never like or use this word, but it is the best word for what I was hearing – holographic! Great bass. Sweet extended highs. Great balance. Great body. Amazing sense of space. Every orchestral instrument, every jazz instrument sounds like it is in the room with me! Incredibly amazing lifelike sound. Played for my wife and son today, and they were stunned. They said, well, we do not need to get symphony tickets anymore!'
W. Cesanek – 4.20.2019
'I am happy I chose the PH 9.0. Dan really has provided a benchmark for the ratio of performance to value.' G. Claggett – 8.31.18
'I have about 25 hours on the PH 9.0 and it keeps getting better. This phono pre is just so musical. Detailed, but not overly so. One can hear a lot of depth in the music.' D. Minches – 8.31.18
'Right out of the gate, glorious organic and tactile mid-range. As I put hours on it, the bottom got really solid and it reaches way down. I believe you have hit a home run!' R. Colburn – 8.25.18
'The PH 9.0 is here, installed, and sounds GLORIOUS. Bravo!!!!' R. Hughes – 8.31.18
'Hi Dan, I have to tell you the PH 9.0 is QUIET! The difference was shocking. After about five hours last night I could not be happier. The difference in quiet passages like the intro to Under the Milky Way by the Church or the Intro to Sister Morphine was dramatic. So much of what I had been hearing was noise and while that can add a pleasant distortion the difference leads to breathtaking dynamic swings. The 470 ohm loading option seems like a perfect match for the Soundsmith Paua cartridge and helped to make music palpable again with huge three dimensional images and soundstage.' T. Ellington – 12.22.18
'A quick note to let you know I have installed your PH 9.0 in my system and have been plowing through my record collection to put it to the test. I must say it is a winner. VERY quiet, which is the first acid test it has passed with flying colors. Plenty of tube 3D dimensionality as well. I have already found it responds nicely to tube rolling. There are no options really for the 6C45, but there are plenty of options for the 6922. I'm using a pair of NOS Telefunken 6922 beauties, circa 1968, and I find the PH 9.0 loves them. Other users should be encouraged to experiment. That is what tube gear is all about.' M. Jones – 9.16.19
MC Gain: 64dB (58dB, 52dB)
MM Gain: 52dB (46dB, 40dB)
Gain Adjust: 0, -6dB, -12dB
Inputs: MM & MC
MC Loading: 10-20-50-100-250-470
MM Loading: 47K fixed.
Stereo/Mono: Rear Toggle.
Frequency: 20Hz – 50Khz (+/-.2dB)
Tubes: (2)6C45, (2)6922/6dj8/7308
Power Supply: External, solid state
Phono Dim = 10"Wx10"Dx4"H
Power Supply Dim = 7"Wx9"Dx3"H
Power Umbilical: 4-pin XLR, 6 ft
Balanced Outs: Transformer Coupled (add cost option)