Please note – This product is no longer available. For informational purposes only.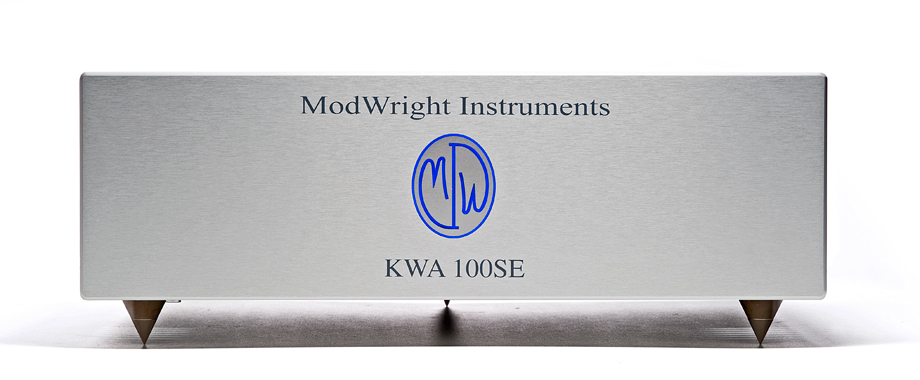 Please note – This product is no longer available. For informational purposes only.
The KWA 100SE includes the following upgrades:
40% increase in number of output devices per channel.
100% increase in main power supply capacitance per channel.
Upgrade of key signal and power supply capacitors to MWI custom capacitors.
Upgrade of key signal path resistors to Takman Carbon Film resistors.
The result is better bass response, improved control and low-level detail an overall resolution
We set out to design the standard KWA 100 to meet a price point and offer the best possible performance for that price.
The KWA 100 provides the strengths of both tube and solid state products: 3-D sound-staging, holographic imaging, and a beautiful midrange of tubes, combined with sparkling highs, low distortion, bass resolution, and control of solid state.
The heart of the KWA 100 Amplifier is a single voltage gain stage called the "Solid State Music Stage." The circuit was developed by Alan Kimmel, creator of the exceptional vacuum tube "Mu" stage.
Mosfet output stage design.
Features include: high-low bias switch, and true balanced floating inputs, accepting balanced and unbalanced inputs. The design incorporates a regulated power supply for the input stage, and oversized heat sinks. The first watts operate in pure Class A.
The KWA 100 uses no global feedback, is direct-coupled, fully differential, and designed and Handmade in the USA.
When our customers asked us what we could do without the target price limitations, the KWA 100SE was born!
Physical size and styling of KWA 100SE amp will be the same as the KWA 100. Included with all KWA 100SE upgrades is a new KWA 100SE face plate to signify the upgrade.
Power Ratings:
KWA100: 110W  8 ohms; 200W  4 ohms.
KWA100SE: 120W  8 ohms; 210W  4 ohms.
Power Transformer: 500VA.
Bandwidth: 10Hz – 100Khz (+0, -1dB).
Noise Floor: -97dB.
Gain: 26dB.
Input Impedance: Min. 15K  50Khz; 23K  1Khz.
Input Sensitivity: 1.5V
Dimensions: 17.75W x 17.5D x 6.5H
Weight: 40 lbs (47 lbs. shipped)