Ambrose and Capital Audiofest 2015
We were so happy to unveil the Ambrose Concept tube amp from MWI at Capital Audiofest 2015.  This is a joint venture of ModWright, Electraprint, Daedalus Audio and CJ Manufacturing.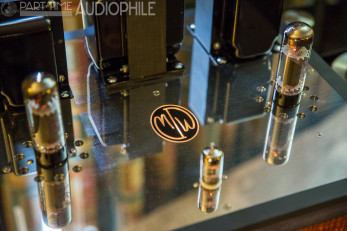 The circuit design and transformer winding are by Jack Elliano, woodwork by Lou Hinkley of Daedalus Audio and Custom Machining by Dave Palka of CJ Manufacturing.  We are all very excited about how this turned out.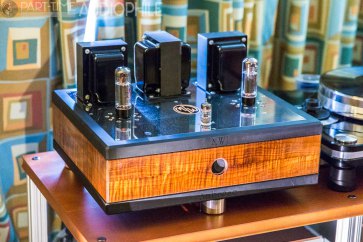 (All photos by Scot Hull, Part Time Audiophile)
Captial Audiofest 2015 was a great show and a credit to Gary Gill's hard work and excellent service from the Hilton Hotel, Rockville MD.
We had two rooms, both with Daedalus Speakers and Wywires cabling. The smaller room, hosted by our MD dealer, Scott Dalzell of Viva HiFi featured our new SWL 9.0 Anniversary Edition in proto form, as well as our Elyse DAC, PH 150 Reference Phono stage and ModWright modified Oppo 105D.
The larger room (Randolf Room) featured our KWA 150SE as amplifier and our LS 36.5 'DM' as preamp. In the Randolf room, we were pleased to be able to spin vinyl with the new VPI Avenger Turntable. We used a VPI Aries in the smaller room.
Our thanks go out to the excellent photography and coverage from Scot Hull of Part Time Audiophile:
http://parttimeaudiophile.com/2015/09/03/caf-2015-viva-hifi-presents-daedalus-modwright-and-vpi/
We are also most grateful to Stereophile for their blog coverage by Art Dudley:
http://www.stereophile.com/content/capital-audio-fest-art-dudleys-saturday#BKKQtuIVUIdlEaZp.97
And also to Herb Reichert
http://www.stereophile.com/content/capital-audio-fest-2015-day-one#z5rFz48oHvKWe6bG.97
Speaking of which, yes Herb, I would love to have you review the SWL 9.0 Anniversary Edition when available.
And Art, yes of course you will be called first when I have an Ambrose ready for review. 😉
Our sincere gratitude also goes out to AVS forum for their video coverage of our room:
http://www.avsforum.com/forum/173-2-channel-audio/2117802-capital-audiofest-2015-show-report.html
I will continue to share more as it comes in, but I wanted to put what we had together so far, in one blog post.
Thanks,
Dan