Axpona 2016 – Awards and Coverage!
We had a great show at Axpona 2016 in Chicago this year. I have finally caught my breath long enough to share the coverage and awards.
We showed in the Sheffield room with Triangle Art, Egglestonworks Speakers, Skogrand Cables and Massif Racks. We had big and powerful sound in a Reference System!
Part Time Audiophile Coverage
Enjoy the Music Coverage
http://www.enjoythemusic.com/AXPONA_2016/ModWright_Skogrand/
We also showed with Ryan Speakers, pairing our SWL 9.0 Anniversary Edition preamp and KWA 150 Signature Edition Reference SS amp with the Ryan 630 floor standers with great success! This pairing showed a fantastic system that was affordable to most. It was a simple and elegant system and room and the sound was phenomenal!
The Absolute Sound – Electronics $20K and under – Most Significant! SWL 9.0 Anniversary Edition Release!
http://www.theabsolutesound.com/articles/axpona-2016-electronics-20k-and-under/
Positive Feedback Online – Audio Oasis Award
AV Showrooms Golden Show Award AXPONA 2016 BEST SOUND!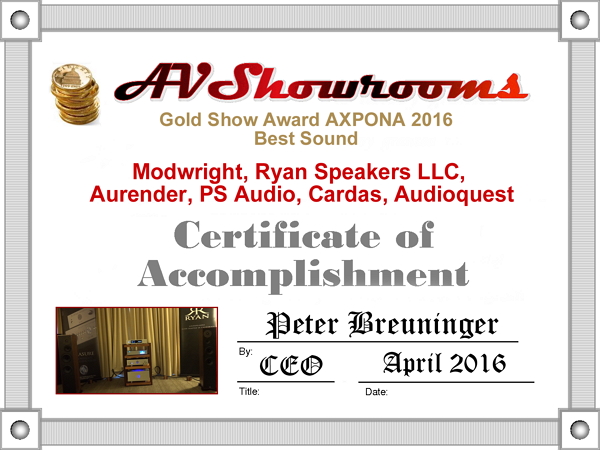 Thank you to all that we saw at Axpona this year and I hope to see more of you next year!
Dan Wright
President, ModWright Instruments