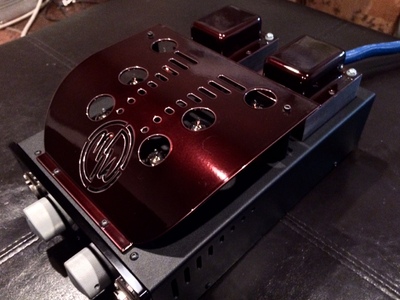 Introducing Tryst, the first dedicated Headphone Amp from MWI.
Base Price: $2995 – Factory Direct (special finish and options may add to cost).
'trist' : A secret meeting or rendezvous…
Factory direct model was chosen to allow best value to customer and no compromise in component, build quality, finish and sound.
Come see TRYST AT SoCal CanJam March 19-20 in Costa Mesa, CA!
Circuit Design by Damon Coffman of Coffman Labs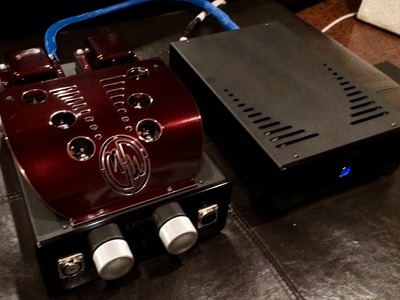 Oxblood Custom Finish, Tryst and TPS Power Supply
Tryst was designed to drive all modern headhpones, with the exception of Stax and other electrostats, that require a specific type of amplifier. We have successfully used Tryst with HiFi Man, Mr. Speaker Ethers, The Abyss and Audeze's LCD series of headphones as well as more conventional offerings from Sennheiser and Grado. At 3W+ into 18 ohms, the amp offers plenty of power for the most demanding applications.

We designed the unit with two source inputs, two preamp outputs for use as a preamp or with other powered desktop speakers, etc.  Outputs include 1/4″ stereo, IEM (mini stereo) and 4 pin XLR balanced outputs.  The circuit is all tube, interstage and output transformer coupled with custom hand-wound transformers from Jack Elliano at Electraprint Audio.

Power supply is external and SS rectified and choke current regulated.
Tube Complement: (2) 6922, (4) 12B4 – all NOS.
Circuit Design: PP transformer coupled with zero negative feedback and pure Class A operation.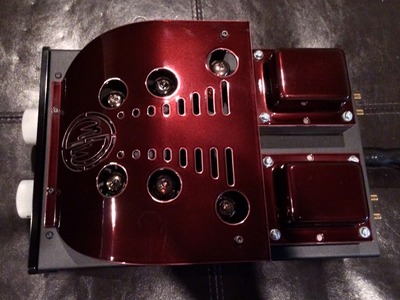 Controls include input select: Mute, I, II. Volume (noble pot). IEM only enabled when 1/4″ Jack has headphones or 1/4″ Jack adaptor installed.
MWI caps and top quality shielded wire throughout to insure absolute quiet performance.
Power supply is fully external for the same reason, with custom WyWires umbilical connecting supply to amp (3ft).
Custom finishes available for tube 'hood' and transformer bell ends. Base enclosures are flat black. Knobs and connectors on face are silver. Faceplates are hand polished black anodized AL.
These units are built on a 'Bespoke' model with regards to finish and possibly other options such as wiring and internal components.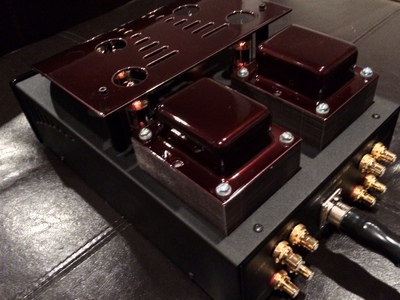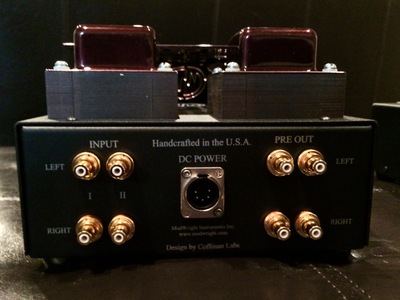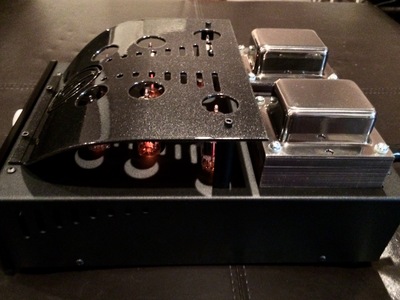 Custom Black Metallic Finish with polished Steel End Bells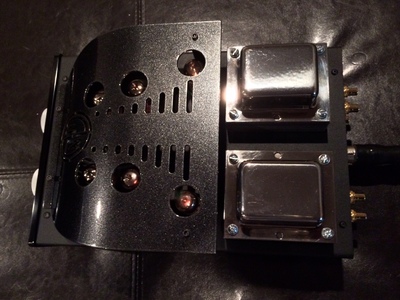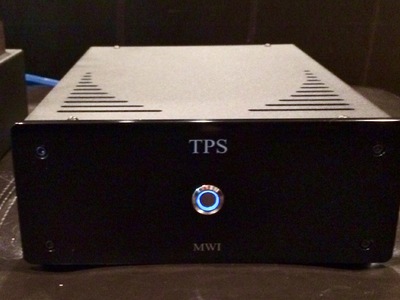 External Tryst Power Supply (TPS)
Thank you again for your support and feedback. I look forward to seeing you at SoCal CanJam, this weekend! (March 19-20, 2016).

For order inquiries and questions:
ModWright Instruments Inc (MWI)
email: modwright@yahoo.com
Call: 360.247.6688