NEW SONY HAP-Z1ES TRUTH MOD!!!
We are pleased to announce our latest Mod for the Sony HAP-Z1ES DSD music server!
The Sony HAP-Z1ES is a music server without digital input or output and without any CD tray. It can store as much as 1TB of music on the stock internal HD. The HAP-Z1ES upsamples all audio files to DSD2 level high-resolution prior to decoding.
This unit plays 2CH music only and requires that must be transferred from computer or external HD via USB input.
If you are looking for a COMPLETE music server solution that also offers HIGH-REZ music playback, this is it!
It is good stock, but with our Truth modification, the Sony HAP-Z1ES is elevated to TRULY REFERENCE playback levels!
Modification Details:
1) Stock IEC replaced with Furutech IEC, hard-wired to power input of player, eliminating molex connectors.
2) Stock analog stage and ALL op-amps are replaced with our choke/transformer inductive-coupled design, featuring a new passive I-V stage and fully balanced circuitry.
3) XLR and RCA outs both fed from tube stage. XLR outs are fully differential.
4) 'Truth' Umbilical made from 99.9999% pure Cardas Silver and Copper solid core wire and Cardas Litz for ground.
5) Upgrade of all critical digital power supply (Data, USB, and DAC supplies) with Os-Con capacitors.
6) Chassis damping applied.
7) External supply provided, to power tube stage only.
Results:
Fast, clean, organic, extended, RESOLVING and musical sound. Visceral bass and extended highs with clean and sweet midrange. Dead quiet noise floor and exceptionally low output impedance.
I have been quietly working on this since last Nov. First unit to ship week ending April 4, 2014!
Tube complement: (2) 6922 driver. (1) 5AR4, 5U4GB, 5V4GB, 5R4GYS and equivalents for rectifier.
This design, as well as the ELYSE DAC and PH 150 Ref. Phono all share in common, a new design direction that I have been exploring for some time, making extensive use of transformers and inductive coupling. All circuits are ENTIRELY tube based, with the exception of SS voltage regulation. They all also include use of the 6922 tube that I have found ideal for use in these circuits. 6922, 6DJ8, 7308 are all acceptable tubes to be used. I am also going to evaluate 6N1P and 6H30 tubes this week!
Pricing:
Full tube mod as described with external supply and 'Truth' umbilical = $2995.
Intro pricing = $2495 through end of April!
Please contact us if you are interested in having a HAP-Z1ES modified or have questions.
We are now booking starting dates beginning: April 28, 2014!
Photo provided here is of the First Article.  Full details as well as professional photographs will follow in the Modiifcations portion of our site soon!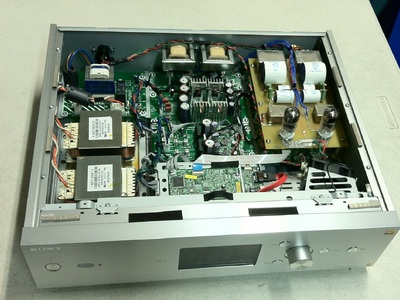 Thanks,
Dan Wright
President, ModWright Instruments
360.247.6688