Tube amps, Ambrose, 845 DS and RMAF – In Search of the Perfect Song…
I want to thank Carol Clark for writing a fantastic article titled: In Search of the Perfect Song, the RMAF Edition:
http://positive-feedback.com/audio-discourse/perfect-song-rmaf/
At RMAF this year, we took a step in a new direction for ModWright, featuring two new tube amps, both Single Ended, with exquisite fit and finish, in a collaboration with Daedalus Audio (wood work and design), Electraprint Audio (transformers and tube design technology) and CJ Manufacturing (brilliant metalwork).
The Ambrose is a 10W EL34 based, Class A, single ended design.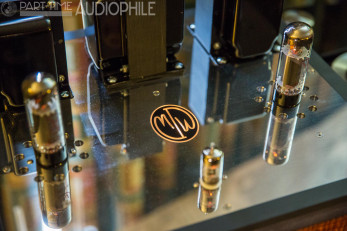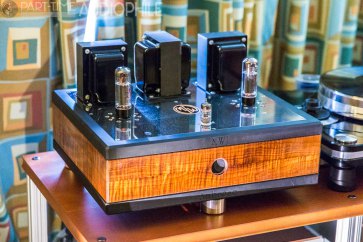 The 845 DS is a 30W SET, Class A1, Cost No Object Monoblock design.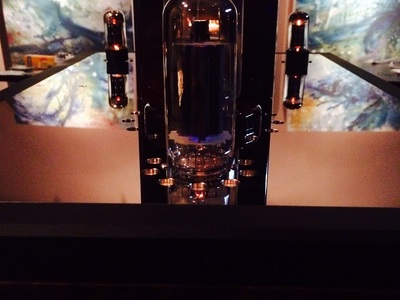 The article is about the ONE SONG that for each of us, gives the True experience of escape that only music can.
Carol describes this experience with The Cure's song "Play for Today" through the Ambrose amp, Daedalus Poseidon speakers and WyWires Diamond cables as follows:
Almost immediately I began to get lost in the song, feeling those chills that signify this is one of my perfect songs. By midway through I was oblivious to anything around me, except the music. Wow.
We had installed the 845 DS monos in another room early in the show and ultimately found that they were a better match with the more efficient Poseidon speakers.
Carol was kind enough to come back and listen again on the third day. Her comments about the same song in the same system, but this time with the 845 DS SET monoblocks:
The first time I listened to the song in this room it was crazy good, but this time it was even better. The music came out and surrounded me, and the shivers were even stronger. These amplifiers with these speakers are a winning combination. If I had my way, I would have taken up that sweet spot seat and sat there for the rest of the day, listening to every song on the Paris recording. Everything in that system just melded together in the best way possible.
Thank you Carol, for your kind words, sharing YOUR favorite song, and for being one of my favorite people in Audio.