New Mod – Promo Deal – Act Now!!!
The Marantz SA8005 player mods are the hot topic around ModWright!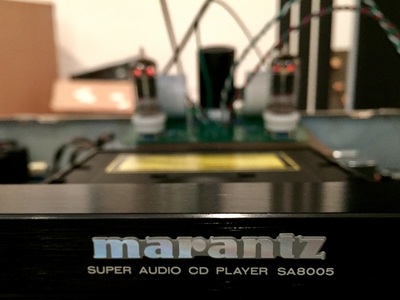 I am VERY excited about the results of our new 5687 based tube circuit for the Marantz SA8005 CD/SACD player with digital inputs and outputs, including USB input for hi-rez and DSD1, DSD2 streaming!
Stock player cost = $1200
http://www.theabsolutesound.com/articles/2016-buyers-guide-cdsacd-players-1000-4000/
Tube mod retail price = $2500
The Promo!
In order to offer our first customres a good deal and jump start this new mod, I have decided to offer a tiered discount structure as follows. These customers must confirm a reservation to have their player modified (customer must supply player) and a 50% deposit is required (non-refundable) to secure a start date and place in line.
Customer #1: 50% off mod cost! (SOLD)
Customers #2 – #5: 40% off. (SOLD)
Customers #6-8: 30% off. (#6 SOLD – 7-8 AVAILABLE)
Customers #8-#10: 20% off. (AVAILABLE)
The Marantz SA8005 with our 5687 based tube mods offers a level of detail, resolution, dynamics and overall musical presention that is the closest I have heard to that of our Reference Elyse DAC ($6900).
At less than half the price, the Marantz with our mods offers CD/SACD playback AND DSD capability (Elyse only does up to 24/192) over DAC USB input!
This has been compared to our Sony XA-5400ES 6SN7 tube mod, which uses the same tube circuit as our acclaimed Oppo 105/105D tube mods and the Marantz is CLEARLY better. It is simply more open, resolving and revealing. It is still very analog and has beautiful midrange and tube hologrpahic imaging….it is SIMPLY more open and resolving!
My entire staff has taken time this week to sit in the show room and listen to their favorite music through the Marantz SA8005 with tube mods and all agree that it is the best that our system has ever sounded!
If interested, ACT NOW! We have already filled the first six positions and I expect the remaining discount starting dates will go very fast!